This weekend the 16th December
I will be selling my glass at the WIRES fundraising market in West Pymble
The market starts at 9am and goes until 4pm at the community hall on the corner of Lady Game Drive and Bradfield Road.

Please pop in and see the fair if you are in the area.
Come and see my latest glass at:
The

5th ANNUAL CHARITY

C

H

R

I

S

T

M

A

S

MARKET
Date: Wednesday 16th November
Place: 21 Arundel Street, West Pymble
Time: during the day

9.30 to 3pm 
             in the evening

6.30- 9.30pm
Please join me at a fabulous market raising money for Multiple Sclerosis
There will be 16 different stalls with amazing

C

h

r

i

s

m

a

s

G

i

f

t

s

and some yummy food and great coffee!
—————————————————————————————————————
The Annual

Arcadian Artists Open Studios

is here again
Only a couple of weeks to go now!
It is on the 
12th – 13th November 2011
I will be at a new gallery this year…. just across the road from where I was last year at 34 Maraban Road.(It is number 3 on the map.)
There is a map of the locations on the Arcadian Artists Website. http://www.arcadianartists.com.au/
I look forward to seeing you there and I have some new coloured glass pieces this year!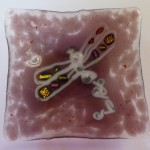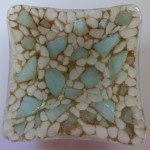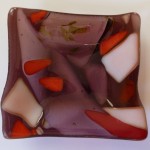 Get an update and a map from the Arcadian Artists Website

http://www.arcadianartists.com.au/

NOVEMBER 12th – 13th

Discover the inspiration that attracts artists to work in the serene beauty of Sydney's Northern fringe – Arcadia, Galston, Berrilee and Dural.

Discover an area of intriguing nurseries with heavenly restaurants, impressive parks and vast forests, gentle pastures where alpaca graze beside orchards of orange, peach and plums.

Our artists and artisans' trail is on a weekend so bring your friends, visit our studios. The only thing you need is a love of the arts mixed with the ability to enjoy a superb natural environment.

Wander along our fascinating artists and artisans' trail visiting 8 studios with over 50 artists and artisans exhibiting on the weekend of November 12th and 13th from 9 – 5pm.

Throughout the year our artists and artisans are preparing their studios and inviting fellow artists to join them in this exceptional event. Some of them will be giving demonstrations as well as exhibiting their exquisite work.

Please sign up for our newsletter so that we can remind you about our popular event, always the second weekend in November. Consider forwarding our newsletter to your friends.

Brochures with an easy to follow route will be distributed around Sydney and available throughout our exhibition weekend at the Arcadian Artists stand in front of the Bendigo Bank in Galston Village.

 Make it a date in your diary now! Saturday 12th – Sunday 13th November 2011
———————————————————————
Mind
Body
Spirit
Festival – Sydney
I am again going to be at the Mind Body Spirit festival in Sydney this year.
I will be helping on the College of Complementary Medicine's stand and demonstrating what Transpersonal Art Therapy is and how it works.
The Festival opens on Thursday 19th May at 9.30am and goes on until Sunday evening the 21st May. 
LOCATION: HALL 1, Sydney Convention Centre, DARLING HARBOUR
STAND: F18
PARKING: Driving to Sydney Convention and Exhibition Centre is easy. On-site car-parking is available for over 900 vehicles.
So if you have the time please pop in and visit us at the stand and we can give you some more information on what the College does and the courses that are available.

I am delighted to be a part of the Oakhill Art weekend.
They are celebrating their 75th Anniversary and it should be bigger and better than ever!
Please come and visitus at Oakhill College, Old Northern Road Castlehill on Saturday 26th and Sunday 27th March 10am -4pm
I have some great new work on display and will be there all weekend just to answer any questions you have or discuss any commissions that you might be thinking about.
Here is just a peek at some of my new work……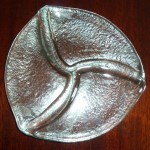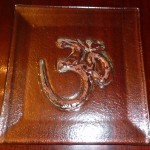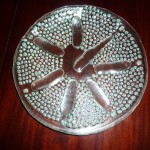 The one on the right above is a commission that i have just finished for a marine biologist who studies plankton and wanted me to make a piece showing the details of a plankton cells as seen using 300 times magnification…. I made it in 10mm float glass and with all the details it reflects the light just beautifully…. she was delighted with the result and told me that some of her students are now interested in exploring their 'passions' in glass.
Well if you missed the best event of the year

'

The open studios of the Arcadian Artists'

… here are a couple of photos to show you what it was like…
     
We had a spectacular weekend of lovely hot weather and even though a thunderstorm came through on Saturday late afternoon, it only served to cool things down and not dampen our spirits. Thank you to all the wonderful people who made the trek out to Dural and came to visit Shayilili…. you made it a really memorable weekend!
This year again I will be exhibiting and showing my glass work at

Shyihili Gallery

which you will find at

25 Muraban Road Dural

on the weekend of the

13th and 14th November

….. 9am to 5pm
Please come … there is some really stunning art and because you won't be paying gallery or agent fees, the prices are a lot more affordable. Great Christmas gifts to lifelong treasures.
Some of the places and events that I will be at or have been at….
Year end Meditation Circle of Swedenborg Association – Killara December 14th 2009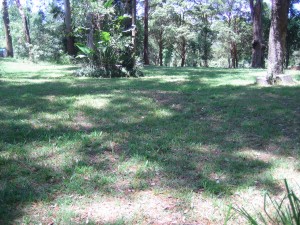 and a beautiful walk through a labyrinth that was set up for the evening in this park-like setting…so special…
Corporate Year End Celebration using Glass Meditation Circles – Palm Beach December 13th 2009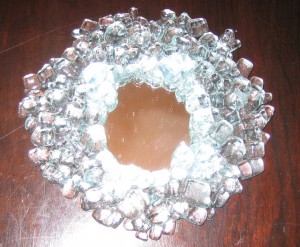 Crows Nest Markets November 21st 2009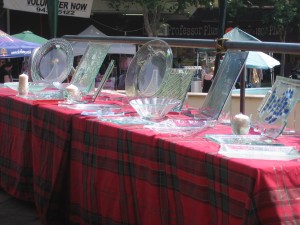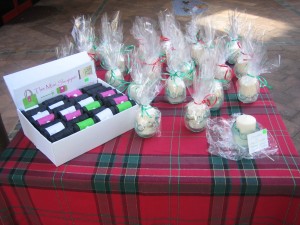 St. Madelaine's Artfest – Annadale November 13th to 15th 2009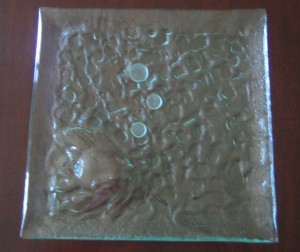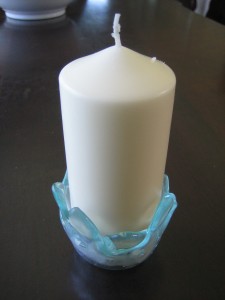 Arcadian Artist Open Weekend – Dural November 7th – 8th 2009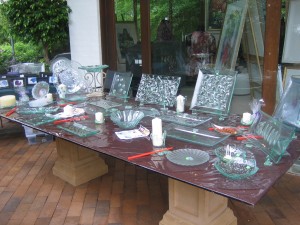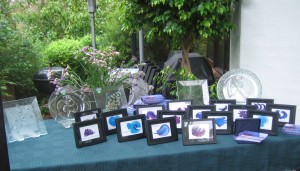 Swedenborg Centre – North Ryde