North Shore Times about the Arcadian Artists Open Studio weekend Nov 13th -14th 2010
ARCADIAN ARTISTS OPEN STUDIO WEEKEND 2010 
Fifty three artists, including several from the North Shore, will be exhibiting this year at the Arcadian Artists Open Studio Weekend to be held over the weekend of November 13th and 14th.
"While all the studios are located in the Dural and Arcadia district, this event has become such an important one on the annual art calendar that we have been approached by many wonderfully talented artists from further afield who were keen to exhibit," said Gordon Finlayson, one of the long standing exhibitors of the event. 
"Although our charter will always ensure that sixty percent of our exhibitors are from the immediate area, we have expanded our reach  to include others in order to keep improving the range of artworks being exhibited ," he added. 
The Arcadian Artists studios offer an amazing array of artistic works – from paintings to jewellery, glassworks to ceramics – the range is far-reaching. 
 "It is not easy to become part of this elite group," said Laura Riddell, a glass artists   from Killara who is part of the Shyihli Studio in Dural. "I was absolutely thrilled to be selected to exhibit in this event. The selection panel ensures all the exhibitors' work is varied, hand made and of a high standard." 
The Arcadian Artists Open Studio weekend, which started over twenty years ago, has become a "must" on the annual calendar of things to do for many. It draws thousands of visitors each year from all over Sydney and beyond who follow this wonderful art trail linked by a leisurely drive in one of Sydney's most beautiful rural areas. Exhibits encompass painting, pottery, sculpture, glassworks, textiles, ceramics, jewellery, leather and woodwork. 
"I am passionate about fabrics,"  says Kathleen Berney of Arcadia. "With so much clothing being imported from overseas it is wonderful to show people that unique pieces are being designed and made here in the northern districts of  Sydney. The Arcadian Artists Open Studio weekend provides a wonderful showcase for artists and their work." 
What started off as a small group of artists opening their studios to the local community has expanded to include eight venues and over fifty  contributing artists from the  Hornsby and Baulkham Hills Shires, but also from the North Shore and further afield. 
"This will be my first  year as part of this inspirational group which provides a marvellous showcase for local artists," said  Katey Ghersini, a feltmaker who uses recycled materials in her works of art.  "Each studio has a unique setting and ambience which contributes to the excitement of following a trail." 
 With several artists exhibiting at each site, there is the opportunity for visitors to not only view or purchase the artwork on display, but to meet the artists and view demonstrations as well."
 "Two years ago we decided to trial demonstrations during the weekend," says textile designer and current president, Trish Fraunfelter. "It was such a success that we have expanded the demonstration programme to include glass making and painting demonstrations, candle making, print making, beading and jewellery making – even how to establish a bonsai plant! In this way we can hopefully inspire others to tap their artistic potential and start creating!" 
Merilyn Chappel sends paintings to exhibitions around the country but really enjoys the Arcadian Artists weekend. 
"It's fabulous to have face-to-face contact with the public," she said. "Most of my work ends up in galleries around the country so this is my only opportunity to gain valuable feedback.  I have many regulars who come back time and time again.  I really enjoy it." 
The Arcadian Artists Open Studio Weekend, which is sponsored by Bendigo Bank, aims to foster participation and interest in the arts within the community so to this end, a grant is made every year to an up-and-coming student artist from the local area.
 For further information, visitors can access the website at www.arcadianartists.com.au  or they can pick up maps and artists' profiles from the Galston Village Shops, the Tourist Information Centre on Old Northern Road, Dural and the Hornsby Visitor Information Centre, 203 Pacific Highway, Hornsby (next to Hornsby park.) An information kiosk will also be set up over the exhibition weekend outside the Bendigo Bank in Galston.  Alternatively, visitors can simply follow the signs throughout the district leading to the various studios and enjoy the excitement of discovery!
Studios will be open from  9am  to 5pm pm on November 13th and 14th.
Published in the Swedenborg Newsletter -Sydney 2009 
Swedenborg Association of Australia Inc. North Ryde Group – Telephone: (02) 9888 1066  website: www.swedenborg.com.au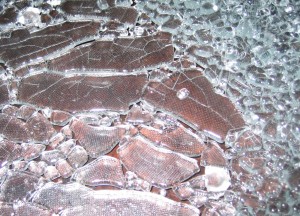 Reflections through Glass
with Laura Riddell    
Friday 27TH FEBRUARY 2009 at 7.45
Swedenborg Centre, 1 Avon Road, North Ryde
Cost: $7; concession $5 (including refreshments) The evening will be a tactile and visual experience.
Laura Riddell's presentation invites you to join her in the world of working with glass. She will explain how her passion was awoken by the beauty that is expressed in glass, as well as her discovery of the deeply symbolic nature of the medium. She believes that when she takes a plain sheet of window glass and transforms it into a bowl or platter, there is a point at which she has to stand back and let it become what it needs to be. There is a mystical aspect in the process that is beyond her control or understanding and she sees the parallel of this in transpersonal journeys of a spiritual nature.
Laura, a member of the Swedenborg Association of Australia, will be showing some of her glassworks as well as asking you to participate in an interactive discovery of your own.
Published in the Anam Cara Artist and Writer's Retreat Newsletter – County Cork, Ireland 2008

Summer 2008 Press Release                                   Link to Anam Cara's website: http://www.anamcararetreat.com/
Artist in Residence: Anam Cara Artist and Writers Retreat, Eyries, West Cork, Ireland.
Handmade Glassware by Laura Riddell                
Laura recently began to explore her passion for art making, using the medium of glass. She brings with her over 25 years as an artist working in other mediums as well as being a writer and a poet. She says that she finds the magic in glass delightful, intriguing and often symbolic.
Each of her pieces is named and has a story that goes with it. Often the name finds the piece in the process of the making. She says that the 'Spirits of the Glass' make their presence known when the piece comes out of the kiln and things appear on it, or in it, that she had not put there. The heat and the fluidity, of the glass reforming, release the Spirits, enabling them to express themselves.
"No two pieces will ever be the same because the providence of the glass itself. Its age and history contribute to its uniqueness but in the process of making the piece, such things as temperature, weather conditions and believe it or not even emotions all have their place of influence."
She goes on to say that there are days when the glass does not want to be cut (under her guidance). She has found it best to leave it for another time, working on a different piece of glass or a different project instead. She even tried to get other people to cut the glass that seemed to be resisting her, but they have the same outcome. "It seems to have a mind of its own so I now just honour and respect that, which allows me to bring the best out of it when I am 'allowed' to work with it."
"I feel very privileged to be working with glass. It has become such a wonderful teacher for me. I am continually challenged by it, but at the same time, so often rewarded with the spontaneous outcomes, that I remain mesmerised and in awe."
 Glass is like life itself – fragile, yet strong and bold if handled correctly, providing joy and pleasure with its ability to be transparent whilst reflecting light so beautifully.
Background on Laura Riddell                                                                                                                                 Nov   2008
Laura's background in the corporate world of computers belies her real passion for art. She has started, built up and sold a number of businesses in the computer industry over the last 25 years but finds her relaxation in creativity.
She started in ceramics then went on to painting on pottery. She has also painted in both acrylics and watercolour (winning a prize in the Swedenborg Art competition in 2001.) She now works, almost exclusively, in glass but draws on her ceramic skills when she is designing and creating moulds for the glassware.
A trained counsellor, energy worker and healer have given her a profound understanding of human nature and its need to creatively express itself. She now encourages everyone to find their own balance between being successful and driven and finding something that 'feeds the soul.'
She has taught workshops about labyrinths and then built them in gardens, both in Australia and here in Ireland. She has travelled extensively; live in three continents and 20 years ago found what she calls her 'real home', in the leafy green suburb of Killara, in Sydney.
Although she is also a passionate long distance walker, having walked across Britain, and has been involved in developing mapped walks around Sydney Harbour with the Walking Volunteers, (http://www.planning.nsw.gov.au/harbour/walking.asp) she is never happier than when she is working in her own garden or pottering around with a new idea for her glass work. She has two, now grown up, children, two dogs, and a wonderfully supportive husband.