Most of my work uses clear glass known as Float Glass. A lot of it recycled glass that I have found or been given. I love the juxtaposition of taking something that was going to be thrown away and making it into something that is going to be kept.
The process that I use to create my pieces is called Slumping. This is when you take glass and lay it over a mould that you have made and then put it in a kiln to allow the glass to slump down into the mold taking on the pattern and shape of the mold. The kiln goes up to over 800 degrees to do this and then takes hours to cool down again so that the glass makes the transition into its new shape slowly.
I began my glass work at a beautiful studio near Wiseman's Ferry in New South Wales on a property that is absolutely inspiring with its own billabong in the bottom of the valley. There are water lilies, frogs and dragonflies. The gum trees crackle with frost in winter and release their wonderful eucalyptus smell when it gets hot in summer. We had horses that came and visited us in the barn as we worked and a blind dog that seemed fearless when walking around the glass. He never seemed to get cut either. Perhaps there was a guardian angel keeping us safe. I worked with other glass artists there and an amazingly generous teacher and facilitator whose expertise and encouragement have been a huge part of my journey and success.
However I have now left the idyllic studio and have gone out on my own. This has forced a new learn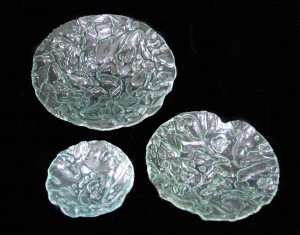 ing curve on me and as so often happens it is only after you have left a teacher that you truly appreciate what she or he was teaching you.
I now have to deal with kilns, firing schedules and suppliers, sourcing more of my own materials but each is helping me develop my own unique style and a bit more of an appreciation for the end results.
My work is pure joy. That is not to say that sometimes things don't turn out the way I would like them to, but the process of working with glass allows me to really express my creativity. I like to think that I honour the spirit of the glass and try to work so that I release it into expression.
I often find my work reflects my life. I will go through stages of working with small pieces of glass, creating wholeness out of the pieces and then see the correlation in my life as I go through a reconnecting time with my family for example. Then I was drawn to work with heavy thick glass and keep the designs very simple. That was a stage when I was pulling back from the many commitments I had, and was trying to make more time for my art. And so it goes on.
Each of the pieces I make has a story that goes with it. It is sometimes the inspiration or the symbolism of the piece or what I have learned from making it. It might just be a name that I have given a piece and how that came about. As with all handmade pieces, each is unique and although I might do a series on one theme, no piece will ever come out the same as any one that I have done before. Each piece is also numbered and can be signed by engraving.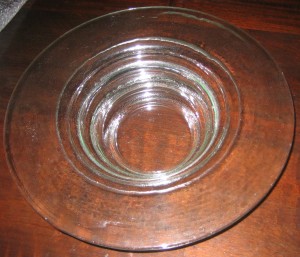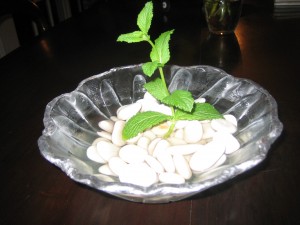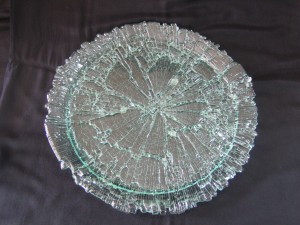 For a details of my glass work that is available for sale – please send an email to info@laurariddell.com and I will emial you a PDF.